This page gives you practical information about our practice. It includes our Pueblo office location, including a map and directions, and about other clinic locations in southern Colorado. There's also information on office hours, insurance and billing policies.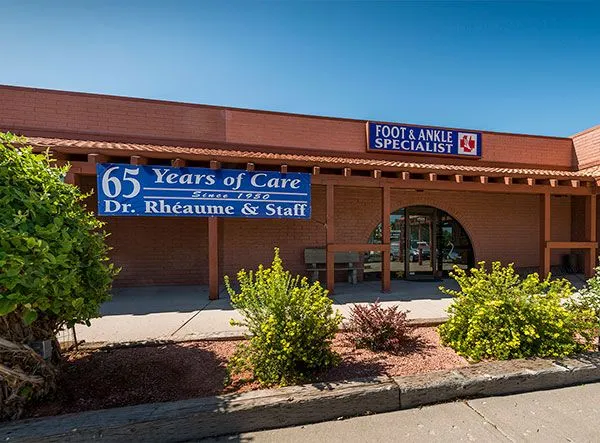 Gordon P. Rheaume, DPM
1513 Moore Ave
Pueblo, CO 81005
(719) 564-2391
(719) 564-2393 fax
Monday:
Tuesday:
Thursday:
Friday:
Saturday:
8:30am - 5:00pm
8:30am - 5:00pm
8:30am - 5:00pm
8:30am - 5:00pm
By Appointment Only
Insurance and Billing
We are very conscious of patient costs. Because many of our patients are experiencing greater out-of-pocket payments, this office is dedicated to providing quality care in a cost effective way.

We are participating providers with Medicare, major health plans and most smaller ones. The larger plans are listed below. We collect co-pays and deductibles. We do ask for these at the time of service. We remind our patients that they have the ultimate responsibility for services received. This includes responsibility for obtaining a referral or prior authorization from your primary care provider if required by insurance.
AARP
Aetna
Anthem Blue Cross and Blue Shield
CIGNA and Affiliated Plans
GEHA
Humana
Kaiser
Mailhandlers
Medicare
Medicaid
Rocky Mountain Health Plans
Tricare
United Healthcare
Appointments
To schedule an appointment in our Pueblo office or other locations, please call 719-564-2391. Our office scheduler can help you with an appointment that best meets your needs. To schedule, call between 9:00 am and 4 pm, Monday through Friday. It's important for you to bring a current list of medications and the date you last saw your primary care physician along with that doctor's name and phone number. We will ask you to update your medical history regularly. We also ask that you bring your insurance information.
Outreach Locations
La Junta, Walsenburg and Canon City
Special In Office Services
Vascular Studies
X-rays
Diabetic shoe program
Custom orthotics (shoe inserts)
Prescription and non-prescription aids including medication, pain relievers, corn and callus relievers, wound care products
Surgery suite